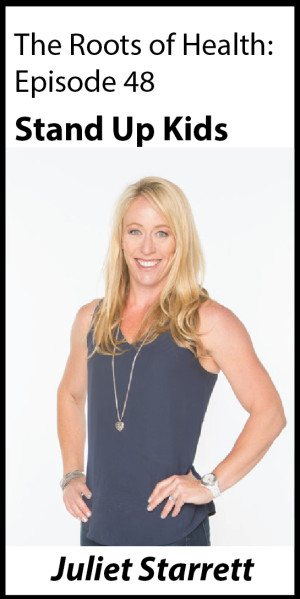 Click here to go right to the show in iTunes or on WebTalkRadio.net.
Picture a classroom. What do you see? Brightly colored walls, books everywhere, buckets of school supplies, a teacher or two, and15-25 kids sitting at tables or desks. Most of us send our kids to school for at least 13 years of their lives and the bulk of their time at school (and at home for that matter) is spent in a seated position. While the intention of school is to challenge their minds and to get them to practice some life skills, are we actually changing the shape of their bodies and setting them up for a lifetime of health issues?
My guest today sees a great opportunity here. Juliet Starrett and her husband have started a non-profit called Stand Up Kids – whose mission is to outfit all classrooms around the country with stand up desks in the next 10 years to give them a movement-rich environment and an opportunity to stay healthy from the beginning of their lives.
Juliet and I talk about the moment she was inspired to start Stand Up Kids, the orthopedic problems associated with remaining in a seated position, how sedentary are kids are today and how nobody can out-exercise a sitting habit, how our current classroom design is not conducive to kids with attention disorders and the gender inequality it creates, about how much more energy you expend when you stand, about Juliet's experience turning her daughter's school into the worlds first elementary school outfitted with standing desks, and how we can facilitate that change in our own school districts.
All kids in school at standing desks within 10 years? Yep… The Roots of #Health http://t.co/PRnlcz5opp @Stand_Up_Kids @webtalkradio

— Meredith (@geomert) September 1, 2015
Go to StandUpKids.org to see how you can influence this change in your child's school!
Juliet's Bio:
Juliet Starrett is an attorney and entrepreneur. She is co-founder and CEO of San Francisco Crossfit, one of the first 50 Crossfit affiliates, and MobilityWOD.com, which has revolutionized how athletes think about human movement and athletic performance. Before turning her attention to MobilityWOD and San Francisco CrossFit full-time, Juliet had a successful career as an attorney, practicing complex commercial litigation at Reed Smith for nearly eight years.
A lifelong athlete, Juliet rowed in high-school, was on the U.C. Berkeley crew team, and went on to paddle for the US Women's Extreme Whitewater Team from 1997-2000, winning two World Championships and five national titles.
In 2007, Juliet won the prestigious Jefferson Award for public service in connection with her work with GirlVentures, a girls empowerment organization, and as a co-founder of Liquid, a kayaking camp for kids with HIV.
When she is not busy running two businesses and StandUpKids.org, Juliet enjoys hanging out with her husband Kelly and their two daughters, Georgia and Caroline, reading, listening to music, Crossfitting, mountain biking, paddling, skiing, camping, and playing outdoors.
You can subscribe to The Roots of Health at WebTalkRadio.net and also on iTunes.