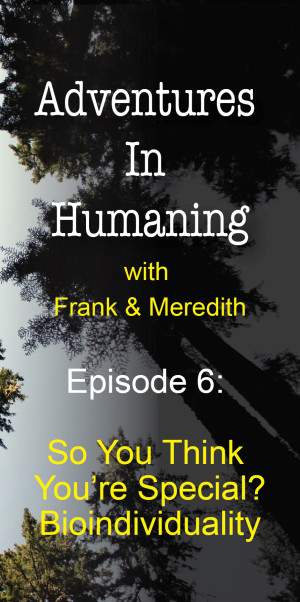 The concept of bioindividuality as applied to dietary approaches refers to the observation that there is no one-size-fits-all diet. Frank and I chat about what it really means and the idea that there is one human diet. What are the variables that give us our bioindividuality?
A couple of links/ideas of interest:
Your bioindividuality is crafted by things like, your family, genetics, epigenetics, gender, perceived stressors, age, current state of health, your preferences, seasons, geography, bacteria, movement habits, sleep… all of the ways that you interact with this world… create your bioindividuality
How do you determine your bioindividuality? What diet is best for you?
They are called SNIGLETS. Subatomic Toasticles. Truth.
We're getting some iTunes reviews! Thank you… thank you muchly… If you are so moved… please send us some love on iTunes, SoundCloud, or Stitcher… or our Facebook page.
Cheers!
Meredith