My aim is to support you to make positive and sustainable changes that will enable you to gain health.
My laboratory is nature. This is what informs my approach… you will be coached in my lab 😉
My mission is to empower you to question conventional wisdom and to encourage you to think critically about your definition of food and health.
And since you are nature; the laws of nature apply to your life and your health.
And since you/we are human… I'm familiar with your challenges.
---
Strengthen Your Tribe.
My primary offering is in a group format – with your tribe by your side – it's sort of continuing education for you and your peeps. Study group about you.
Who's in your tribe?
Your tribe is your social group. You know who they are. They include friends, family, co-workers. They are the people that flank you at your wedding, who support you through challenging times, who you make elaborate meals for, jump in to assist with child care, who you can count on at any time.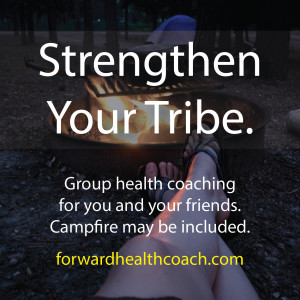 You don't know what you'd do without them.
So let's strengthen them, shall we?
I've been trying to figure out how best I can be of service to you while walking my talk. And this is it.
Whether it's at lunchtime in your office space, in the evening around the fire bowl, in the privacy of your home, or at various parks around town… I can help you to learn more about yourself – and each other – so you can best support each other to meet your health goals.
If you know that there's more to life than the 9-to-5 routine and you're ready to strengthen the bonds and collective health of your tribe… this opportunity is for you.
It's a (minimum) 3 month program (6 sessions) – where I introduce the principles of Ancestral Health and we discuss a self-care approach to food and life. Human life on earth was created under a completely different environment & set of circumstances than we experience today – and your health may be – IS, in fact, reflecting that. And even though we meet every other week for 90 minutes – your health gains will primarily take place outside of this time – while you're living your life.
If you have a quorum in your tribe – I'm ready to support you to gain health – together.
Here's how that happens. For $525/mo (for 3-months – split anyway you choose; with the option of adding additional months on) I'll meet with you and your tribe (up to 8 people) in your own environment (we can move from living room to living room – or backyard to backyard – or in your conference room for that matter). We'll set the schedule prior to our first meeting so all parties involved will understand the commitment.
Contact me if you have any questions… and we'll get the ball rolling.
Don't forget to share this page with your tribe.
---
Workshops.
Meal Plan Like A Boss.
Are you pressed for time? Do you struggle to feed your family home-cooked meals? Do you need some new meal ideas? Would you like a better way to plan?
Are you interested in saving some money?
This is the workshop for you. $109
Health By Nature: The Principles of Ancestral Health.
There's a great way to reduce and eliminate the symptoms of disease, to lose body fat, and to strengthen your immune system. Chances are, you weren't taught this approach in the course of your life… it's not an approach that our conventional health care system encourages, and not an approach that our modern environment facilitates.
I call is 'ancestral health'… and the way to begin to take advantage of the benefits of ancestral health is to first, be aware of the principals.
Ancestral Health is about living deliberately, questioning your role in your health outcome, and adjusting the inputs in your daily life to be more in alignment with your natural environment.
Join me for a workshop developed to create awareness around the principals of Ancestral Health, to plant a seed that will grow in time. A sort of Ancestral Health 101.
Enroll in the next one today! $25
---
HUMANOSITY
I have an online program that is designed to drip feed you actionable steps & ideas throughout a year to help you shape your journey from health care to self-care.
Find it here:
---
INDIVIDUAL HEALTH COACHING
I do offer individual coaching to only a select few clients – my current fee is $400/mo. If you are interested in learning more, contact me for a complimentary health strategy session so I can better understand your current environment & goals and you can learn more about my approach and see if you're ready to dive in. I can meet in person, via skype, or over the phone while we're both out for a walk.
Once you have gained health beyond your wildest dreams, my hope is that you pay it forward to your friends and family. I'm happy to help, of course 😉