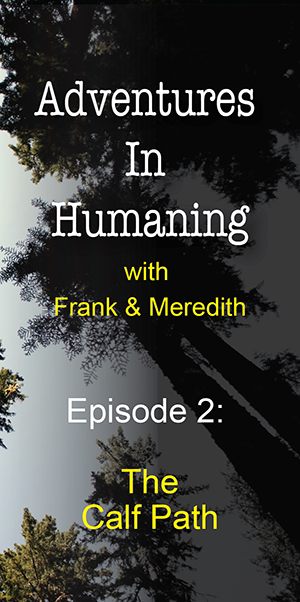 Go right to this episode on soundcloud here.
Adventures In Humaning goes literary this week. We read and discuss a poem by Sam Foss (1895) called 'The Calf Path'. This is a poem about how it's in our nature to take the path. Frank and I have a meandering conversation that includes references to and the topics of:
Credentials
Science in general – how we tend to science the heck out of life
And how we receive the conclusions of 'science'
Question even what you believe to be a credible source
Even though you might not want to be the expert…
It's sometimes valuable to get your hands dirty to understand something better for yourself.
Kids & school. Our education system is a calf path.
Medical doctors, their path, and their constraints.
You are put in a box, risked for insurance, and medicated like others despite your uniqueness.
We tend to create solutions with no problems. Especially around the topic of cholesterol.
But there is value to the calf path, it is our human nature, maybe a simpler, more ancestral path would be easier on us.
Frank mentions the Weston A Price Foundation.
Come on over to the Adventures in Humaning Facebook page to introduce yourself, or leave us a review on iTunes… much appreciated!
Cheers!