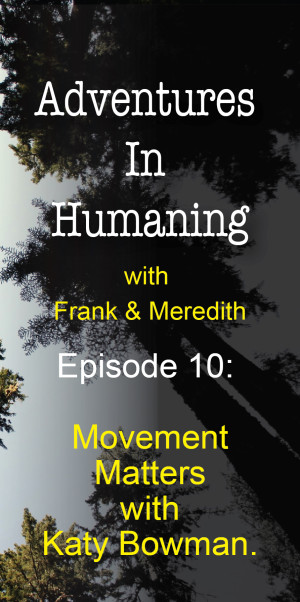 Click here to go right to the show on Stitcher, iTunes, Soundcloud, or Google Play.
Join Frank and Meredith as they fanboy/girl with Katy Bowman. They discuss topics from Katy's book Movement Matters.
Those conversations include:
What is the conventional definition of nature?

Are we the single unique thing in the universe?

What is the Katy Bowman definition of nature? It's all about the discordance of rates for change things these days.

Find out the round about way that Katy realized that she was part of an ecosystem.

How do you reconnect with your natural ecosystem? Short story: Transition. But… you could…
Quantify things – Butt to chair ratio, indoor to outdoor time

Because we can't see something, we can't investigate those questions

We wanted to ask Katy about getting naked in nature. But ended up talking about her experience with cold thermogenesis…

"When you're in the river, you're part of the river for the time that you are in it" ~KBow, 2017

Think about how a butterfly adapts to its environment – not ready for flight when it's out of the chrysalis. You are a butterfly 😉

We're immobilized by our situation. Or so we perceive.

Movement is intrinsically linked to what it means to be human, but it's never really considered…

Life is dynamic. Movement matters.