I just returned from my first day at the Well Expo here in Madison – and I'm walking away realizing that I have some work to do.
But first – the goodness.  I'm so proud to be working with Julia McConahey of Chrysalis Hair & Body – Madison's only non-toxic salon.  I watched her educate people – by having them educate themselves. Winning approach.  She had a 'skin deep' challenge, where she asked people to look up at least one of their own personal care products on the Environmental Working Group's Skin Deep Cosmetics Database to see exactly how toxic the ingredients are.  This was eye opening to a lot of people… Lucky for them though, Lisa Brill from Qet Botanicals (right here in Cross Plains, WI) was close by to help them discover all natural replacements for their favorite bath and body products.
Yes – this is indeed goodness.
I had a chance to walk around the Well Expo and see who was there… it was a pretty busy place, full of vendors who are trying to make a living in the health & wellness industry. I couldn't help but notice the that the 'quick fix' people were still out there – suckering women into buying their shakes or supplements to lose weight.  I guess there's a market for anything.
I picked up one of the freebie bags full of ads and samples from the vendors at the Expo.  There were a couple of things in that bag that I found particularly counter to good health.  Here's one: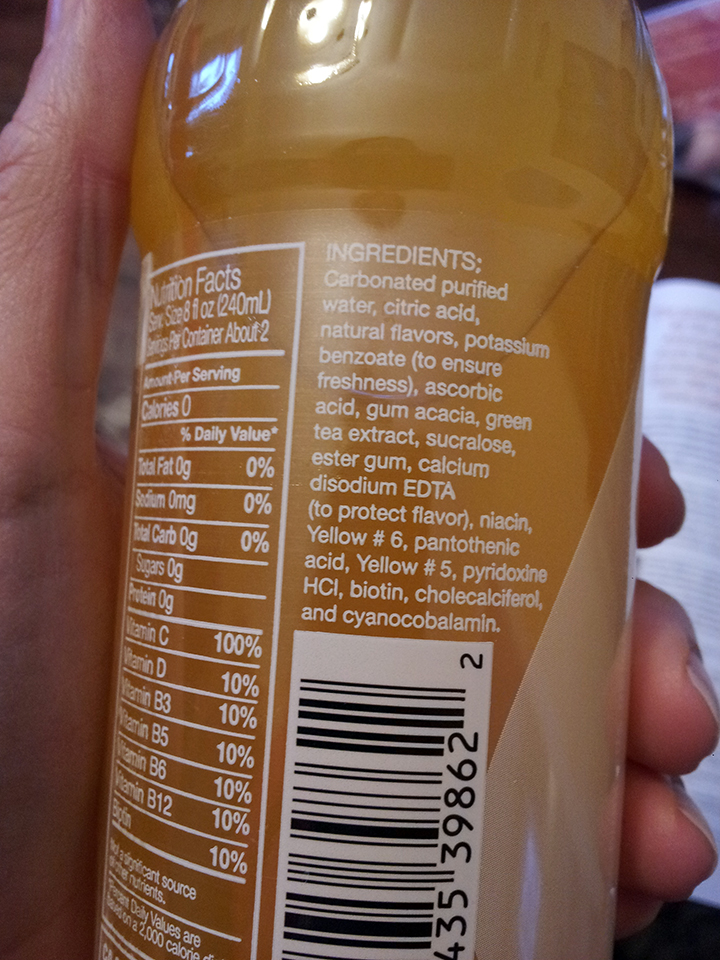 It's called 'Klarbrunn Vita ICE', orange mango
(+ antixidants, 0 calories, + vitamins)
Wow.  It could also say + preservatives, +artificial colors, +artificial flavors, +artificial sweeteners… but I guess that wouldn't help it to sound healthy.
Yeah, this stuff does in no way contribute to wellness.  Just don't kid yourself.
Also, I received a copy of a magazine called 'Nature's Pathway' – advertised as 'Nutrition, Fitness, Organic & Sustainable Living, Balance, Wellness, Community'.  Sign me up!  It has a ton of health promoting words in it… with one egg-ception.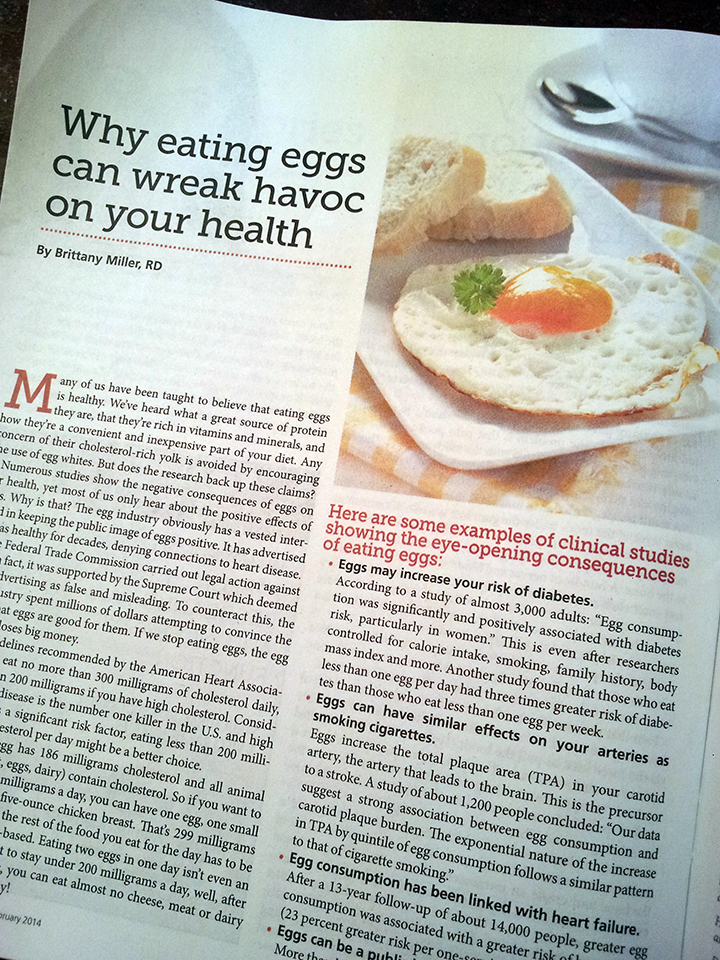 This article warns that eggs are not healthy.  The author is stuck on their cholesterol content as a major negative. She cites that eggs may increase your risk for diabetes, that eggs have similar effects on your arteries as smoking cigarettes, that egg consumption is linked with heart failure, that they can be a public hazard, that they can increase a man's risk for prostate cancer, and that they may increase mortality.  Yikes!
And not the advice that I would give – I would say most people have an egg deficiency – but that's another story
This article is referenced –  I intend to check out those references to see what sorts of studies they are… I suspect we're looking at correlations and food recall – which are not so much science as they are data massaged to come to a specific answer.  There is nothing that we can learn about causation from such studies.
Maybe I'll write them and set the record straight(er).
It is very true that wellness is in the eye of the beholder – that we're all at a different starting point – and that we need to question what we hear and what we read.