I'm a health coach – I'm throwing my all into spreading some serious health around. I'm pretty passionate about what I'm doing these days.
I'm also aware of how my brain works. I'm one of those people with great ideas running around in my head – and I end up thinking that everyone can see those ideas for some reason.
For example: I'm giving a free health & wellness seminar that I call 'Thrive' (I really need a better name for it – I'm on that)… it's scheduled from 4:00-5:30 on Friday, June 27th at Jules Pilates Studio in Madison. I've arranged it, it's going to happen… and now of course people will know about it, because it's going to happen.
I didn't say I was a marketer

So, let me tell you a bit more about it – and then I'll get to the meat of this post.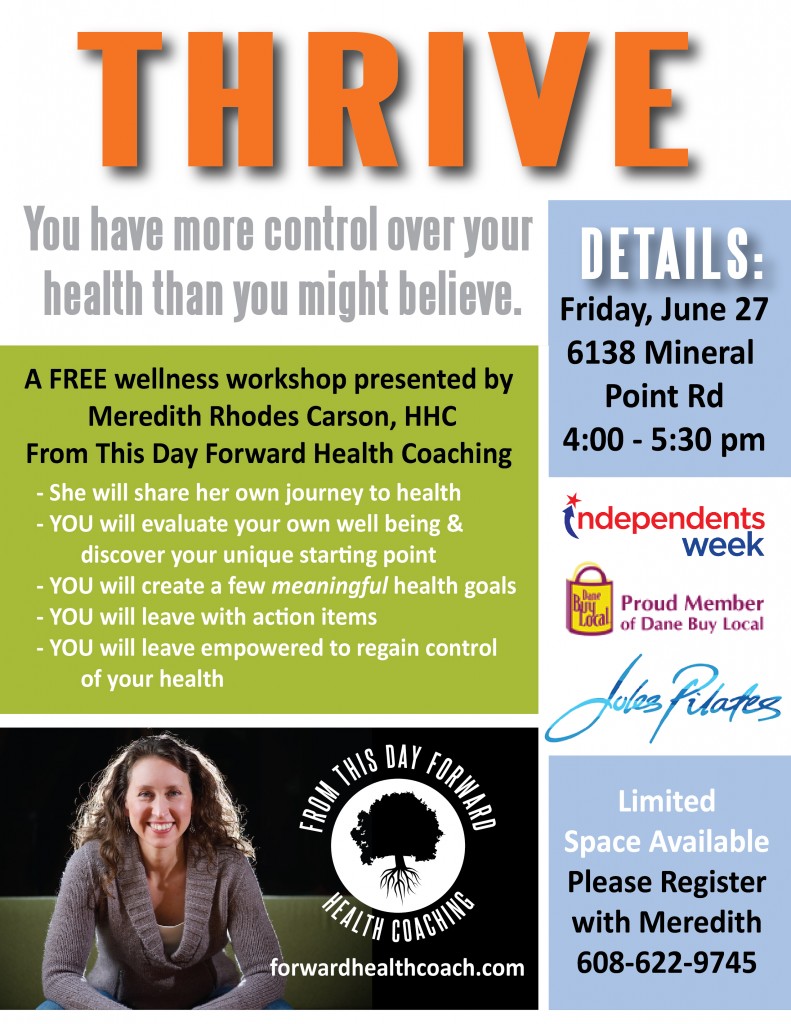 This workshop is during Dane Buy Local's Independents Week celebration (June 27 – July 7)… It's a workshop that walks you through some important phases that you'll likely go through if you are about to seize the day – to begin your own personal health revolution… today.
Motivation
Open mindedness
Awareness
Where YOU begin
Food as Medicine
How to travel this journey
In this workshop – I'll outline my own (ongoing) personal health journey – because I believe it's a common story that goes something like:
girl thinks she's fat
girl loses weight conventionally/restrictively
girl's friends encourage her because they think she's looking hot
girl loses health
girl's doctor fails her
girl takes ownership of her body
girl's head has to change/fight convention
girl finally begins to thrive…
It's about a diet mentality gone very wrong, and thankfully I discovered the error in my ways – and I really want to share it with you.
I've also got an important exercise for you to do. Despite the baseline commonality that conventional health & wellness wisdom may be wrong about a lot of things, we all live unique lives.  We all have unique stressors: our support networks, our habits, our jobs, our environment, our perspective, our upbringing – all as different as can be. Our bodies are all informed by vastly different circumstances – making our starting points in this quest for health very different. In this workshop, you will see where YOU should start.
Finally – I've got a unique approach to human health, which is why I question a lot of conventional health advice. My background is in geology and paleobiology/evolutionary science. I am very interested in how the human species best thrives (you might be too)… I call my approach 'ancestral' – and I'll talk about this more at the workshop.
In addition to the valuable information that you will take away from this workshop, I'm offering some crazy deep discounts on my group health coaching program for the duration of Independents Week.  Like, 2 for 1 – so bring a friend – bring your own personal support network – and the 2 of you can split the investment. Express your interest anytime from June 27 – July 7 – and your program fee is only $65 / month for 6 months.
And because I'm incredibly interested in your success in this program – I'll even let you try out the first session before you invest. For real.
Hey – if you happen to be reading this and thinking to yourself – "Damn, self, I'd love to hear what she has to say, but I've missed this opportunity." Fret not. Contact me and I'd be happy to arrange a workshop for you and your colleagues.
And now, our regularly scheduled programming.
5 reasons why there's no time like the present to invest in your health.
1) Your current life & health is the sum total of everything that has happened to you and your body since the day that you were conceived. Seriously. It's taken you (insert your age here) years to build you so far. Small, consistent, daily shifts in your current routine will change your body & life. The sooner you start, the more life you can soak up down the road. There's no time like the present.
2)  "Procrastination is the thief of time" – I'm pretty damn good at this, and you might be too. "I'll start tomorrow" is sort of a survival technique that many of us live by. Problem is, we don't reap any rewards today – or tomorrow –  if we're always planning to change at some point in the future.  There's no time like the present.
3) We're pretty comfortable in our routine, right? Which is why we often fail to see the bigger picture. It can be exciting to shake things up – to jump outside of your comfort zone where real change happens. Plus – there are SO MANY OPTIONS out there… gazillions of new food, ways to move, things to do, blades of grass to touch… abundance!  You're robbing yourself of variety and quite possibly some great joy if you stick to the way things have always been done. Imagine the possibilities… There's no time like the present.
4) Do you have minions kids in your life? These guys are so malleable, they literally soak up information all day long. Their lives and their bodies are on some sort of trajectory that is largely influenced by what goes on at home. You are one of their most important, if not the most important role models. They will learn their habits from you. Is there a new direction that you'd like to go? They're watching… there's no time like the present.
5) The monetary reason… right now – I'm offering deep discounts for in person group health coaching… designed to help you slowly and sustainably shift your life and health in a health gaining sort of direction. Money talks, I know. This small – proactive investment in your health today could save you hundreds of thousands of dollars down the road. You can see this I'm sure. 75% of our health care costs today go toward largely preventable disease maintenance. There's no time like the present to take control.
Let me help you to do this… you've already read this today, you have some interest and awareness – you're on your way, don't lose momentum.