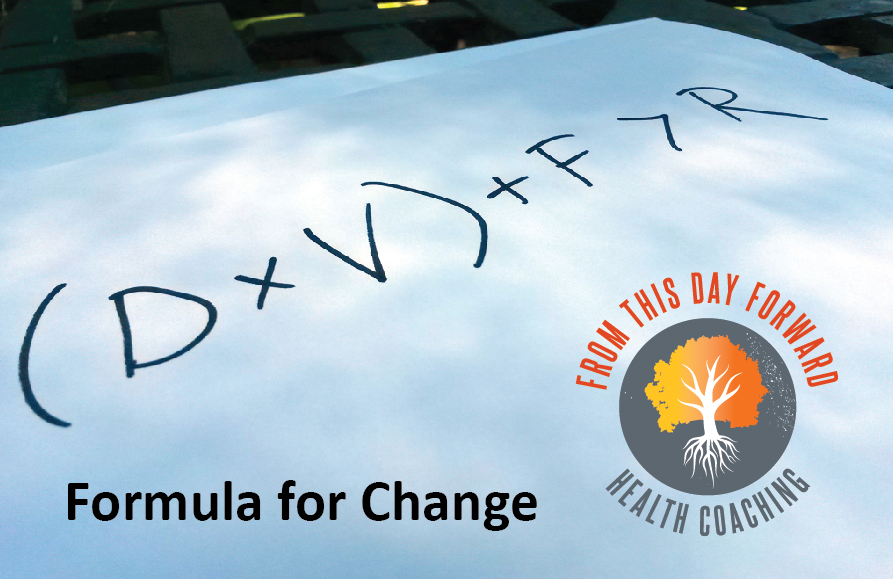 There is a formula for change. Did you know that?
A lot of us are in contemplation mode – we're realizing that something in our lives needs to change in order to reduce stress or to make ourselves happier or to otherwise gain health… We can admit that change is necessary, but that's all we're willing to do. I find a lot of people in this position.
Or maybe we're determined (in our heads) to make a change… but we're sort of stuck there. We might be actively learning, researching, observing, or dreaming up various approaches that can shift our lives on a new path toward our goal… we're super good planners, but not super good do-ers.
The next step – or actually making change happen – seems to be insurmountable. We don't know how to get ourselves to actually execute this change. We know what we need to do, but can't seem to do it.
Realize this. Resistance to change (and that's what it is) happens because change is different and uncomfortable in some way. The reason we aren't doing what we know we should is because it's outside of our comfort zone… it's super easy to keep on doing what we've always done… we're on autopilot really, and it's not so easy to turn off the autopilot and head in our own direction. Maybe we're afraid that we'll do something wrong, maybe we're perfectionists and require years of researching 'the right' way to do things, maybe we lack perspective or awareness. Maybe we've lost our instinct, and rely too much on information, waiting for other people to tell us what to do. <<< Been there.
FACT: We won't get different results if we keep doing the same things. This is just true.
Here's a new perspective… I learned this when I hired ActionCOACH Business Coaching a few years back to help me grow a consulting business. Change is scary whether or not you're talking about making personal change, or making changes to your business in order to grow profits, but the equation remains the same.  Here it is:
(D x V) + F > R
What does this mean?  Let me 'splain.
R = your resistance to change. This might look like fear, uncertainty, anxiety… or comfort.  If you are interested in making a change – you'll need to make the left side of this equation greater than the right side – so your resistance is trumped.  Let's figure out how to make that happen.
D = your dissatisfaction. If you're contemplating or planning change already – you've got your reasons. Maybe you're unhappy taking prescription medication, maybe you're unhappy with how much body fat you have, maybe you're unhappy with some key relationships in your life, or you're unhappy with your food choices. Maybe you keep beating yourself up every day that goes by that you don't move. Maybe you're living with chronic pain, maybe you can't remember the last time your laughed. Maybe you have no idea what you want to be when you grow up. Quantify in some way your dissatisfaction… (I can help you to quantify this visually if you sign up for my 52-Week Kick-in-the-Ass).
The take home message is this… all else being equal, you'll only make change if your dissatisfaction is greater than your resistance to change. Often times that takes pretty serious health issues or 'wake-up' calls to overcome resistance. Fortunately, dissatisfaction isn't the only variable that we can quantify.  Let's see if we can avoid scary 'wake-up' calls.
V = a vision. This involves your imagination and your feelings. Start with what you are dissatisfied with, and imagine what your life would be like if you eliminated that stressor. Imagine how you would feel. Creating a vision is powerful – it can help us to overcome resistance when the dissatisfaction is relatively low (read: before any medical, social, mental, physical, financial emergencies).
It's very important not to discount your feelings in this vision, and maybe even to allow your feelings to dominate your vision. Why is this? Simple. Sometimes our mental images can be unrealistic, unattainable, or even someone else. It's very easy in this modern world to daydream about other peoples body's, and to imagine what we would look like with their body. A huge-giant-most-important-learning here is that we are all different inside and out. A huge-giant-most-important-outcome of your health gain is to see your own body for it's beauty, warts and all, and to put a shit-ton of effort into loving it. <<< We need to compare ourselves today – to ourselves yesterday to measure results, not to compare ourselves to anyone else. You win if you love yourself more and more each day. Negative self-talk does not help this side of the equation. Let this be a challenge to you.
Dissatisfaction and Vision will be your 'why' you want to change. Let's move on….
F = your first steps. Here we go – this is what we need to figure out how to do. How do we take our first steps toward doing what we know we need to do?
So, maybe you've got your dissatisfaction and vision all figured out, but you're still resistant to change. This really means that you don't perceive the stakes to be high enough for you to change. But there's this other variable in there… these so-called first steps. How can the first steps set you up for success or failure?  Many people will fail to take the first steps because they are scared or overwhelmed by the idea. Many people don't really know what those first steps are… and a lot of the time, people set themselves up to fail because they design a first step that's just too damn big to take.
First steps should be easy peasy. Seriously, if you are looking to make change, and you're currently staring down the barrel of big huge overwhelming change… you're unlikely to do it. It's way too different from what you're already doing.
Let's pretend for example that you routinely have headaches, but they aren't completely crippling, just annoying (or maybe you haven't decided that they are crippling yet). You're dissatisfied with that. Sometimes these headaches (or stomach aches, or joint pain – insert your pain here) stop you from hanging out with friends or playing a game of frisbee or reading a book to your child… You've got a vision in your head, that it would be great to feel energetic, to be pain-free, and to be ready to spontaneously participate in any activity. You've done some research and you're aware that food intolerances or nutrient deficiencies or inflammatory foods might be the cause of your headache. But you love the foods you currently eat… they are delicious, satisfying, easy, comfortable, and you'd rather live with the headaches than give up X (insert your favorite food here)… especially if it means that you have to give up most of what you're currently eating. (See any dietary approach that is restrictive – this is a big big big turn off to most folks, and the reason that they either don't attempt to change, or cultivate food guilt because suddenly they can 'cheat' and feel bad about their choices… ugh.)
This presents a quandary, right? I mean the pain of your headache times the vision that you have for a healthier you isn't great enough to overcome your resistance to change. Honestly, this is me, with dairy. I know that dairy makes me clear my throat over and over again – I call it 'the gerf'…. but it's not annoying enough for me to give up dairy.
But, what if the first steps were small… or exciting even? Would you be willing to make change then? What if your first step was changing one of your go-to foods with another for a while, to see what happens? Maybe replace it with a food that you've never had before… maybe that food will taste even better, who knows… Maybe this means exploring different desserts, maybe this means trying something new for breakfast, maybe this means swapping out a cup of coffee for a cup of tea… Maybe if you consider this first step more of an exploration rather than a permanent change – maybe you'll be more game to move ahead.
Some people can make giant leaps that lead to sustainable change. They are excited by the idea of change, even without facing any dissatisfaction. Some people can craft a strong vision that helps to propel them into change. Some people are so unsatisfied with something that they've reached a tipping point and have put their minds to it – their dissatisfaction is now greater than their resistance to change.
Where are you on this spectrum? Have you figured out what is keeping you from making the changes that you need to make?
I'd argue that most people haven't broken their resistance to change down in any sort of way because it's not something we tend to be aware of. So consider yourself aware now.
How will you use this information?